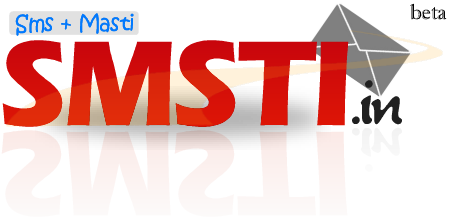 ---
Terms and Conditions
This User Agreement describes the terms and conditions applicable between SMSTI.IN and every person (hereafter called 'Registered User' or User) who avails the 'SMSTI.IN' service under the domain and sub-domains at SMSTI.IN ans SMSTI.COM. If you do not agree to be bound by these terms and conditions you may not use the SMSTI.IN or SMSTI.COM website. Reasonable use of the SMSTI.IN or SMSTI.COM website shall automatically bound the user to this agreement. BY SENDING SMS FROM SMSTI.IN or SMSTI.COM YOU ARE AGREEING TO BE BOUND BY THE SMSTI.IN TERMS OF SERVICES.
You must read, agree with and accept all of the terms and conditions contained in this User Agreement, which includes those terms and conditions expressly set out below and those incorporated by reference, before you may become a user of the Site.
SMSTI.IN is only a virtual Venue, which facilitates users to send SMSes
It is important to realize that we offer free SMS service to users so that they communicate information to their known persons. (Communication should be between two known persons). The Site acts as a venue, which allows users to communicate information anything, which is legal, at any time, from anywhere, within India. SMSTI.IN has no obligation to observe and monitor the service. However, we reserves the right to review materials posted and to remove any material/s. SMSTI.IN reserves the right to block all messages from the list whose content is legally categorized as explicit, obscene, adult and pornographic in nature. SMSTI.IN also reserves the right to terminate your access to any or all of the services, at any time, without notice, for any reason whatsoever. It is difficult to monitor all the messages by reviewing or taping the messages provided by users, through our Site. As a result, we have no control over the truth or accuracy of the messages. We may not ensure you that all messages sent by users may reach the destination mobile. We are not responsible for undelivered messages.
Restricted Messages. You must not send messages like abuse, adultery content, insulting content, etc which we do not permit on the Site, We do not accept any obligation to protect you for sending restricted messages on our Site. SMSTI.IN free site is not ment for communicating advertisement messages. Such sales and marketing messages are restricted in our site.
Identity verification. We use many techniques to verify the accuracy of the users information when they visit on the Site. However, because user verification on the Internet is difficult, SMSTI.IN cannot and does not confirm the purported identity of users or the validity of the information which users post to the Site. So we are assuming that the information provided by the users is accurate and valid. Later by any other means, if we found the userís information is not valid or inaccurate, we had every right to take legal action against that user.
All postings (messages, text, files, other Content) transmitted through the Site, are the sole responsibility of the users from whom such Content originated. users are entirely responsible for all Content that they send, or otherwise make available through the Site. For all Content provided by users, they automatically agree to indemnify Provider as provided below.
By sending or otherwise posting any Content on the Site, you represent and warrant:
(i) Your own content like jokes, puzzles, sayings, etc have all necessary rights, but not limited to copyrights to the content you provide and we have every right to use it as provided in this Terms of Service;
(ii) All information you provide is true, accurate, current and complete, and does not violate these Terms of Service;
(iii) The content will not cause injury to any person or entity.
You agree not to send, transmit, distribute messages in these or any other forms through our SMSTI.IN site such as:
1. Libelous, defamatory, obscene, abusive, pornographic, threatening, or an invasion of privacy;
2. An infringement of the intellectual property rights, including, but not limited to, copyrights and trademarks, of any person or entity;
3. Illegal in any way or which advocate illegal activity;
4. Any advertisement regarding various marketing and sales activities of goods, or services.
1. Services
MODIFICATION OF THESE TERMS OF SERVICE
SMSTI.IN reserves the right to change any of the terms, conditions, and notices under which the services are offered. You are responsible for regularly reviewing these terms and conditions including changes/modifications if any incorporated by us from time to time. Your continued use of 'The Service' constitutes your agreement to all such terms, conditions, and notices. SMSTI.IN makes no guarantees as to the continuous availability of the Service or any specific feature(s) of the Service. SMSTI.IN reserves the right to change or terminate the Service and/ or alter the terms and conditions of this Agreement at any time with on 1 days ' notice or without notice in some cases. Service termination occurs are addressed in the sections below.
Messages shall be deemed to have been delivered when SMSTI.IN has delivered/sent the messages to the immediate destination that SMSTI.IN 's software is programmed to do, including SMTP servers, Mobile telephone networks, or any other intermediary server or API that is deemed to be the point of dispatch of the message. SMSTI.IN does not guarantee delivery on behalf of Mobile telephone networks of mail servers.
2. USE OF PROPRIETARY SOFTWARE
Subject to the terms and conditions of this Service Agreement and Indian Law, SMSTI.IN grants the User an individual, personal non-sub licensable, non-exclusive and non-transferable license ("the License") to use its proprietary software and/or application service, in object code form only, and only in accordance with the applicable end user documentation, if any, and only in conjunction with the SMSTI.IN service Agreement. The User will not, directly or indirectly, reverse engineer, de-compile, disassemble or otherwise attempt to establish the source code or underlying ideas or algorithms of the software; modify, translate, or create derivative works based on the software/ application; or copy (except for archival purposes), rent, lease, distribute, assign, or otherwise transfer rights to the software/application; use the software/application for timesharing or service bureau purposes or otherwise for the benefit of a third party; or remove any proprietary notices or labels with regard to SMSTI.IN products and/or services. As between the parties, the User acknowledges that SMSTI.IN , and its licensors retain ownership of all propriety applications, software, intellectual property "IP" (Intellectual Property) and any portions or copies thereof, and all rights therein. Upon termination of this Service Agreement for any reason, this License will terminate and the User shall destroy and cease to use all software and applications. THE SOFTWARE IS PROVIDED AND APPLICATIONS ARE OFFERED, "AS IS" AND SUBJECT TO THE WARRANTY DISCLAIMERS AND LIMITATIONS OF LIABILITY FOUND IN THIS SERVICE AGREEMENT AND SUBJECT TO TESTING BY THE USER OR User PRIOR TO ENTERING INTO THIS AGREEMENT.
3. Membership Eligibility.
Our services are not available to, and may not be used by, persons under the age of 18 years or to temporarily or indefinitely suspended SMSTI.IN members. If you are under 18 years old, you can use this service only in conjunction with and under the supervision of a parent or guardian. If you do not qualify, please do not use our services. Membership is allotted to individuals only. Other than individuals such as Business entities, clubs, associations, NGO, organizations, governing bodies, should not entitled to use our service.
4. User IP.
We are not responsible, if any other person misuses the service by logging from your IP address. SMSTI.IN will not be held liable to any third party claims and/or actions taken with respect to services offered.
5. Risks
The customer agrees that, by definition, access to the Internet, the GSM and CDMA networks and other communication media is associated with risks concerning authentication, data security, privacy, availability of services, reliability of transmission etc. - The customer agrees to bear full and exclusively responsibility arising from such risks and consequences of the customer's usage of SMSTI.IN services.
6. User Privacy
It is SMSTI.IN policy to respect the privacy of the User. SMSTI.IN will not monitor, edit, or disclose any personal information about the User or the User's SMSTI.IN account, including its contents, without the User's prior permission unless SMSTI.IN has a good faith belief that such action is necessary to: (1) conform to legal requirements or comply with legal process; (2) protect and defend the rights or property of SMSTI.IN ; (3) enforce this Service Agreement or protect SMSTI.IN business or reputation, including without limitation upon termination, cancellation or suspension of this Agreement by SMSTI.IN ; (4) respond to request for identification in connection with claim of copyright or trademark infringement by the User, or a claim by a third party that the User is using the Service in connection with an infringing, illegal or improper activity; or (5) act to protect the interests of the User or others. SMSTI.IN suggest the Sender's name and/or email address should be with each message that the end-user sends.
The User agrees that SMSTI.IN may access their account, including its contents, as stated above or to respond to service or technical issues.
The SMSTI.IN also provides free service to its users. You, "The User", also comprehend and concur that 'This Free Service' may include advertisements and sponsorships and that these are necessary for SMSTI.IN to provide the service. Various advertisers sponsor free SMSTI.IN messages so that users tend to get sponsored ads at the end of their messages. We may serve advertisements to this site or work with a third party to serve the advertisements. Advertisements placed on the site may include but are not limited to banner ads, paid links, pop-up windows, buttons, and sponsorships. You agree that SMSTI.IN has the right to run such advertisements and promotions. The Service is provided as is without warranty of any kind. SMSTI.IN hereby disclaim all warranties and conditions with regard to "The Service".
7. MO AND PREMIUM RATED SERVICES
SMSTI.IN services relating to Mobile Originated ("MO") and Bi-directional messaging are described in "Appendix to HTTP, SMTP, FTP, XML, SMPP and COM API 1.9 and 2.0 MO and Bi-directional Messaging Services Only" ("MO terms"). Should there be a discrepancy between the MO Terms and this agreement, this agreement shall prevail.
SMSTI.IN offers MO and premium rated services ("premium rated services") in certain territories. This is subject to change and can be confirmed with SMSTI.IN from time to time.
Any User wishing to use SMSTI.IN 's premium rated services shall do so subject to such terms and conditions as may be imposed by SMSTI.IN in its premium rated Quotation forms
The costs associated with the premium rated services shall be as set out in the quotation form. SMSTI.IN will collect MO messages and pass these on to the User in the methods described by SMSTI.IN . The User will be responsible for content of the service, as well as the cost of any and all bearer charges to provide the content to the end-client. The User shall not use, or knowingly allow others to use, the lines (MO Numbers) for any purpose, which in SMSTI.IN opinion is improper, immoral or unlawful. The User will not act, or omit to act, in any way likely to injure or damage any person, property or the SMSTI.IN gateway or cause the quality of the MO number lines or SMSTI.IN 's service in general to be impaiRed or interrupted in any manner whatsoever. SMSTI.IN shall be entitled, at any time, and without liability to the User or any third party, to modify, expand, improve, maintain or repair the SMSTI.IN service or the MO number ranges, notwithstanding that this may require suspending the operation of the SMSTI.IN MO service. SMSTI.IN shall use its reasonable endeavors to provide the User with advance notice of any such suspension and to minimize the duration thereof in so far as this is reasonably practical.
The User warrants that their MO SMS Services do not and will not contravene any laws or regulations of the Indian Law, or the countries in which these services are offeRed, and in particular any laws relating to privacy, spamming, gaming and gambling and the User indemnifies, holds harmless and shall defend SMSTI.IN against any claim, action or damage suffeRed or incurRed by SMSTI.IN as a result of a breach by the User of this warranty.
PLEASE NOTE: In order to ensure that SMSTI.IN complies with industry codes of conduct, users are obliged to route all MT messages related or associated directly or indirectly with any SMSTI.IN hosted short code via SMSTI.IN 's messaging gateway. This will enable SMSTI.IN to ensure that all premium rated- and short code messaging services offer the requiRed confirmation messages as stipulated by the various codes of practice and that such messages can be validated as having been submitted. SMSTI.IN shall be entitled to immediately terminate the User's services if the User does not comply with the provisions of this clause, without any liability to the User or any third party .
The User will not be entitled to use any of SMSTI.IN 's trademarks (whether registeRed or unregisteRed) or to make reference to SMSTI.IN in any advertising, publication or communication related to the MO or bi-directional SMS Services or otherwise, other than such usage as permitted by SMSTI.IN in writing.
Should the User's account be used by users for such networks as SMSTI.IN charges for incoming messages, the User shall be responsible for such costs in full. These charges are published by SMSTI.IN from time to time, and can be amended by SMSTI.IN as and when SMSTI.IN deems it necessary. SMSTI.IN shall have the right to subtract such message credits as are necessary to Redeem the said charges from the User's SMSTI.IN account.
8. MESSAGE AND OTHER LIMITATIONS
SMSTI.IN assumes no responsibility for the deletion or failure to store information. SMSTI.IN has set no fixed upper limit on the number of messages the User may send through the Service apart from how many units are left in the User's account; however, SMSTI.IN reserves the right, at its sole discretion, to determine whether or not the User's conduct is consistent with the letter and spirit of the Service Agreement and may terminate the Service if the User's conduct is found to be inconsistent with the Agreement. SMSTI.IN may, in the future, with prior notification, limit the amount of storage space available to each Member.
The sender ID that may be sent as part of mobile text messages is not a guaranteed feature and may not be sent without any notification.
Although SMSTI.IN prides itself on speedy delivery of messages, messages may be delivered late due to queuing or network traffic. This will still result in the message being seen as "delivered".
9. USER CONDUCT
Any unauthorized commercial use of the Service, is expressly prohibited. The User agrees to abide by all applicable local, national and international laws and regulations and is solely responsible for all acts or omissions that occur under its account or password, including the content of any transmissions through the Service. By way of example, and not as a limitation, the User agrees not to:
i. Use the Service in connection with junk SMS messages, spamming or any unsolicited messages (commercial or otherwise);
ii. Harvest or otherwise collect information about others, including email addresses, without their consent;
iii. Create a false identity mobile phone address or header, or otherwise attempt to mislead others as to the identity of the sender or the origin of the message;
iv. Transmit through the Service, associate with the Service or publishing with the Service unlawful, harassing, libelous, abusive, threatening, harmful, vulgar, obscene or otherwise objectionable material of any kind or nature;
v. Transmit any material that may infringe the intellectual property rights or other rights of third parties, including trademark, copyright or right of publicity;
vi. Libel, defame or slander any person, or infringe upon any person's privacy rights;
vii. Transmit any material that contains viruses, Trojan horses, worms, time bombs, cancel bots, or any other harmful or deleterious programs;
viii. Interfere with or disrupt networks connected to the Service or violate the regulations, policies or procedures of such networks;
ix. Attempt to gain unauthorized access to the Service, other accounts, computer systems or networks connected to the Service, through password mining or any other means;
x. Interfere with another User's use and enjoyment of the Service or another entity's use and enjoyment of similar services; or
xi. Engage in any other activity that SMSTI.IN believes could subject it to criminal liability or civil penalty or judgment.
10. NO WARRANTIES OR LIABILITIES
SMSTI.IN (INCLUDING ITS OWNERS, EMPLOYEES, SUPPLIERS, INTERNET SERVICE PROVIDE RS, PARTNERS, AFFILIATES AND AGENTS) SHALL NOT BE LIABLE FOR ANY DAMAGE, LOSS OR LIABILITY OF ANY NATURE INCURRED BY WHOMEVER AND RESULTING FROM USE OF THE SERVICE AND THE INTERNET GENERALLY, ACCESS TO THE SMSTI.IN WEBSITE, ACCESS TO WEBSITES LINKED TO T HE SMSTI.IN WEBSITE, INABILITY TO ACCESS THE SMSTI.IN WEBSITE; INABILITY TO ACCESS WEBSITES LINKED TO THE SMSTI.IN WEBSITE, CONTENT AVAILABLE ON THE SMSTI.IN WEBSITE, SERVICES AVAILABLE FROM THE SMSTI.IN WEBSITE, PRODUCTS AVAILABLE FROM THE SMSTI.IN WEBSITE, DOWNLOADS AND USE OF CONTENT FROM THE SMSTI.IN WEBSITE, AND/OR ANY OTHER REASON NOT DIRECTLY RELATED TO SMSTI.IN 'S GROSS NEGLIGENCE AND THE USER EXPRESSLY ACKNOWLEDGES AND AGREES THAT IS AT ITS OWN RISK AND THAT SMSTI.IN IS PROVIDED "AS IS" AND "AS AVAILABLE" WITHOUT ANY WARRANTIES OR CONDITIONS WHATSOEVER, EXPRESS OR IMPLIED. SMSTI.IN WILL USE COMMERCIALLY REASONABLE EFFORTS TO MAKE ACCESS TO SMSTI.IN AVAILABLE TO THE USER THROUGH THE REQUIRED ACCESS PROTOCOLS, BUT MAKES NO WARRANTY OR GUARANTEE THAT THE USER WILL BE ABLE TO ACCESS SMSTI.IN AT ANY PARTICULAR TIME OR ANY PARTICULAR LOCATION.
Whilst SMSTI.IN will ensure that the service is reasonably available at all times, and will at all times endeavor to maintain connections to as many aggregators, gateways and Carriers as are, in its discretion, commercially viable and make all upgrades to the SMSTI.IN API available to The User in a commercially reasonable and timely manner, the User acknowledges that SMSTI.IN cannot guarantee the availability of a Carrier's SMSC. Information, ideas and opinions expressed on the SMSTI.IN website should not be regarded as professional advice or the official opinion of SMSTI.IN , and Users are encouraged to consult professional advice before taking any course of action related to the information, ideas or opinions expressed on the SMSTI.IN website.
Disclaimer
All the information that is displayed, transmitted, or carried by SMSTI.IN as well as its related websites, which include but is not limited to directories, mails, guides, news articles, opinions, messages, reviews, text, photographs, images, illustrations, profiles, pictures, audio clips, video clips, trademarks, multimedia messages, service marks and the like, called collectively the "Content", is fully and completely protected by all the copyright and other prevailing intellectual property laws. This Content is owned by SMSTI.IN, its affiliates or third party licensors. You may not be permitted to modify, publish, transmit, transfer, sell, reproduce, create derivative work from, or to distribute, repost, or perform, display or in any way that can be considered as commercially exploiting any of the Content. You expressly agree to abide by all the copyright notices and restrictions that are attached to any of the Content accessed through SMSTI (dot) IN website and also not to alter or modify the content in any way.
Permissions for Use
You are not permitted to take a single copy of the Content that is displayed on the SMSTI (dot) IN website for personal and non-commercial or Commercial use. You are not permitted to archive, or to retain any Content, in any form without obtaining written permission from SMSTI.IN.
The SMSTI (dot) IN website is containing statements, facts, views, opinions and recommendations of the Users of the SMSTI (dot) IN website, and includes advertisers, third party information providers and organizations.

The SMSTI (dot) IN website does not try to represent or endorse the accuracy or otherwise, completeness or reliability of any advice, opinion, statement or other information displayed, uploaded or distributed through this website. You acknowledge that any reliance upon any such opinion, advice, statement or information shall be at your own risk.

SMSTI.IN makes no warranty or representation whatsoever regarding the website or any content, advertising services or products provided through or in connection with this website.

SMSTI.IN expressly disclaims any and all of the warranties, express or implied, including, without limitation.
Privacy And Anti Spam Policy
At SMSTI.IN, we respect and take steps to protect the privacy of our Users. We strive to make our site a safe environment for all who visit our website SMSTI (dot) IN and use SMSTI.IN services. We are committed to providing you the best possible online experience as well as the best products and services. This policy addresses our practices with respect to our website, but does not address the practices of any website we link to (including the merchants and content providers we link to). This policy is incorporated into, and subject to the terms of, our Terms and Conditions.
We use the information you provide us to keep track of the SMSTI.IN products and services that you have signed up to receive. Though the senders name shall be displayed as SMSTI (dot) IN ( or SMSTI (dot) INísmobile number in case of CDMA subscriber).. We will use contextual advertising in user generated SMS.Deliverimg Contextual advertisement and related links is the key to provide the users the FREE service. SMSTI (dot) IN stores and processes your SMS messages. This is completely automated process with no human intervention.
We may also use your personal information to improve our marketing and promotional efforts, to statistically analyze our website usage, to improve our content and product offerings and to customize our website's content and layout. We do this in an attempt to improve our website and better tailor it to meet our Users' needs. We may also use personally identifiable information about you to deliver information to you that, in some cases, is targeted to your interests, such as targeted banners and promotions. We will use your email address to contact you regarding administrative notices or latest news from time to time. We will use information in the file we maintain about you, and any other information that we obtain from your current and past activities on the site, in order to resolve disputes, to troubleshoot problems and to enforce our Terms and Conditions.
Any information/content that is sent to SMSTI.IN for SMS text messaging and/or storage purposes will remain the property of the User. SMSTI.IN will at no time collect or redistribute this information without obtaining your consent, except where legally required by law to do so. This has particular reference to any database, numbers and/or recipient details that you may deliver to us, or store on our databases.
As a matter of policy, we neither rent nor sell personally identifiable information about our Users to any third party. We may however aggregate all personally identifiable information and may disclose such aggregated information to any or all advertisers, marketing and general or commercial promotional purposes. Even in these cases, disclosure of any information that could personally identify you would not be permitted.
SMSTI.IN may offer some features where sometimes it is required to provide some of the information about you to a third party, which is offering such services. It must be understood clearly that we will provide information only to the extent that the said third party requires your information, which enables you to use their service, but prior to that we will make efforts to notify you of specific information being provided to such third parties. Before you use the services of any third party, we request you to check up and evaluate if the terms and conditions of said third party services are acceptable to you.
It is vital that SMSTI.IN receives from you the permission and valid rights to transmit your information to a third party. In addition, please note that we will comply completely and fully with any or all court orders, information requests or otherwise from government agencies and regulators and any other legal and regulatory processes that require us to disclose personally identifiable information of our Users.
It is also vital that SMSTI.IN receives from you the permission and Valid rights to, and that you have no objection to append targeted Ads to your FREE SMS messages. By using our FREE SMS messaging services you are actually confirming that you have gone through our terms and conditions and that you have no objection to in our appending targeted Ads to your SMS messages and to using your personal information.
ANTI SPAM POLICY
Any registered User of SMSTI.IN can send SMS text messages to his/her friends, family, colleagues, clients, contacts etc using the SMSTI.IN Interface. These interface conditions of use strictly forbid spamming to cell phone Users. We have several software filters to block spam messages. However, we cannot guarantee that spamming will not ever occur. Appending contextual Ads to users SMS is not considered as spam within the meaning of spam. Spam is a totally uninvited message urging the recipient to avail of some services. But here the advertisement is part of a personal message which the recipient receives and is not a totally uninvited message. Also, the user has specifically opted-in to use this FREE service to send SMS to the recipient. Further the communication is between two known persons.
LIMITS ON OUR ABILITIES
Although your privacy is our top priority, due to the existing statutory, legal and technical environment, we are unable to ensure that personally identifiable information of our Users will not be disclosed to third parties in ways that are not described in this policy. Additionally, we may (and here you give us authorization to) disclose any private information about you to private entities, law enforcement or other government officials, which we may believe to be necessary at our sole discretion or appropriate to address or to resolve inquiries or problems. We undertake that this will not be done for commercial purposes or for our personal gain.
You hereby acknowledge that the acceptance of this privacy policy is a condition to your use of our products and services and that you agree to be bound by all of our Terms and Conditions.
---